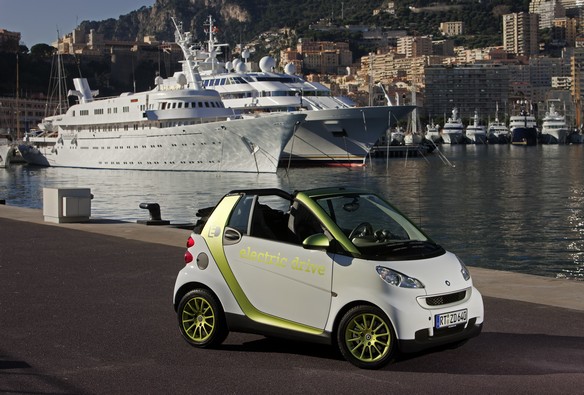 Smart starts series production of second generation electric drive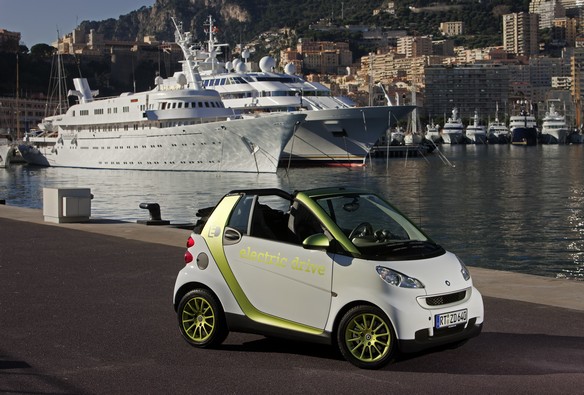 Stuttgart – Since mid November 2009 the new smart fortwo electric drive has been rolling off the production line at the smart factory in Hambach, France. Unlike its predecessor, the electrically driven smart fortwo of the second generation is fitted with an innovative and highly efficient lithium-ion battery. It is housed in a space-saving position between the axles, which means that neither the space nor the safety concept of the intelligent two-seater vehicle are compromised in any way. A 30 kW electric motor is fitted at the rear. This provides for good acceleration with 120 Newton metres of torque immediately available and high agility thanks to the no-shift electric drive. The smart fortwo electric drive can be fully charged at any household socket for around two euros. This enables it to travel around 135 kilometres – more than enough in city traffic. The smart electric drive is the ideal alternative for urban mobility with zero local emissions. To start with, the new smart fortwo electric drive will be leased or rented to select customers in Berlin and other cities in Europe and the USA. From 2012 it will be available to anyone interested.
Marc Langenbrinck, Managing Director smart brand, Head of Sales & Marketing smart says "In 1998 smart revolutionised urban mobility with the unique smart fortwo vehicle concept. Now smart is once again taking on a pioneering role and redefining zero-emission urban mobility. We are the first manufacturer in Europe to launch a series-produced electric vehicle in eight countries at once. Daimler is spearheading electromobility with the smart fortwo electric drive. The smart fortwo electric drive is a further logical step in the evolution of the smart brand which already boasts the fleet with the lowest fuel consumption of all manufacturers."
Environmental compatibility and state-of-the-art functionality have been defining features of the smart fortwo ever since it was launched more than ten years ago. Since then its innovative concept has combined sustainable, forward-looking technologies with individual urban mobility. With a length of just over two and a half metres the extremely compact vehicle can also park perpendicular to the flow of traffic. In addition, the space-saving and environmentally friendly two-seater currently has the lowest fleet consumption and it brings its occupants to their destination comfortably and safely. Its unique design set it apart from all other cars on the road and it quickly became an automotive lifestyle icon that is completely at home in happening cities around the world.
smart fortwo electric drive offers innovative driving fun
Series production of the new smart fortwo electric drive started in mid November and represents the logical continuation of an ambitious goal: the production of a well-engineered, attractive city car that has no local exhaust gas emissions i.e. a zero emission vehicle. In 2007 smart kicked off zero-emission motoring in London with its tough city traffic conditions. Since then 100 smart fortwo electric drives of the first generation have been used by customers there in real-world conditions. The feedback from the UK capital has been very positive and confirms the high degree of maturity of this vehicle concept.
 In 2008 smart presented the concept for a second generation smart fortwo electric drive, a more advanced electric drive with an innovative lithium-ion battery. This technology has decisive advantages over other types of batteries including better performance, shorter charging times, a long life and high reliability. Marc Langenbrinck says "The second generation smart fortwo electric drive is based on a successful and accepted vehicle concept with cult character and inherent resource-saving characteristics. Its innovative electric battery drive makes it the perfect car for the city: it is agile, economical and climate-friendly. Motoring with zero local emissions in an urban environment has become a reality – without any compromises."
 Electric drive factored in from the very first concept
The smart fortwo electric drive is a smart fortwo that does not make any compromises with regard to safety, comfort and space. Electric drives have been part of the smart concept right from the start. The later integration of the components needed for electric drive was planned at a very early stage. For example, there is space for the battery in the underfloor between the axles where the tank is usually located. That is why the electric drive module does not limit the space available in the smart fortwo electric drive in any way; there is just as much interior and luggage compartment space as in a smart fortwo with a combustion engine.
Powerful drive
An agile 30 kW magneto-electric motor is installed at the rear of the new smart fortwo electric drive and reacts directly without delay. Powerful torque of 120 Newton metres is immediately available. This results in a surprising amount of power when pulling away. The smart fortwo electric drive accelerates from 0 – 60 km/h in 6.5 seconds – just as quickly as a petrol model which it initially leaves behind it. After a year of driving the first generation smart fortwo electric drive in everyday conditions on British roads one of the participants in the large-scale London trial said "You can beat anything at the lights". As the smart fortwo electric drive has been designed primarily for urban mobility its maximum speed has been deliberately limited to 100 km/h.
Thanks to the power characteristic of the electric motor, just one single fixed gear ratio is needed. There is no need for any gear changing – a major advantage in dense city traffic. To reverse, the engine's direction of rotation changes. "Fantastic and easy to drive. You just get in, turn on and go" was how experienced users from London summed up the smart fortwo electric drive.
The second generation smart fortwo electric drive is powered by a lithium-ion battery with capacity of 16.5 kWh. It can be charged at both normal household sockets and special charging stations.
A fully charged battery is sufficient for up to 135 kilometres of driving fun (NEDC). This range is more than enough for city traffic as studies have shown that cars drive an average of 30 – 40 kilometres per day in towns and cities. For this, the vehicle only needs to be charged for around two hours. Plugging the car in overnight will fully recharge an empty battery.
 Together with other car manufacturers and utility companies Daimler has developed a concept for a Europe-wide standardised charging plug for a three-phase power grid and amperage of up to 63 amps. The cooperation partners aim to create a mandatory standard for charging stations for battery-powered vehicles in Europe and worldwide. This global standardisation is an essential prerequisite for setting up a smooth and functioning electricity charging infrastructure so that electric vehicles are accepted by customers and used across all vehicle classes.
Generation differences
First generation smart fortwo
electric drive
Second generation smart fortwo
electric drive
In everyday use in London since 2007 
Production of a total of 1000 vehicles underway since the end of 2009
Battery: NaNiCL, works at 280 degrees and therefore needs to be heated. Also has an insulated casing like a thermos flask. 
Battery: lithium-ion, works at normal temperatures.More useable energy with the same size. The same battery size as for the 450 was chosen. The range has increased from 100 km to 135 km
Power output: 20 kW 
Power output 20 kW plus peak power output of 30 kW for approximately 2 minutes. The peak power can be called up with the kickdown function.
Intelligent charging management
The smart fortwo electric drive is the first electric car worldwide to feature intelligent i.e. "smart" charging management. The smart fortwo electric drive's on-board electronics enable all relevant information – such as the electricity contract identification data – to be exchanged with the power grid. Among other things this enables convenient, simple and secure billing at all times. Customers receive a single electricity bill only from their own utility company – regardless of where they get the electricity for their smart from and who supplies it. As a further function drivers are able to monitor the status of the charging process and therefore the current range of the smart electric drive anywhere and at any time, for example via an iPhone.
Moreover, the vehicle electronics form the basis for features to be implemented in the smart fortwo electric drive in future such as the possibility of actively controlling the charging process – for example, by retrieving the maximum available amount of power whilst the vehicle is stationary and the corresponding electricity costs from the utility company. This enables the most economical charging strategy for the vehicle to be calculated. If the electric smart is parked for a longer period of time, the car can be recharged when cheaper electricity is available, for example during the night.
With its various billing, control and monitoring functions the intelligent interface in the car ensures extremely customer-friendly electromobility that is convenient and safe.
Electronics optimise the battery charge status and power consumption
A special battery management system constantly monitors the voltage, electricity and temperature. If one of these parameters reaches a specified limit – for example when driving uphill at constant peak power (kickdown) – then the electronics will reduce the power output in a way that the driver will barely notice. This rules out the risk of battery overload.
The electronics also monitor the charging process and control the capacity display. The vehicle's power electronics supply the 12-volt on-board electrical system with electric current from the high voltage battery via a DC/DC converter. In addition, they also control the heating and air conditioning, for example, to minimise the strain on the battery. Drivers of a smart fortwo electric drive can pre-air condition their smart fortwo electric drive as long as their vehicle is being charged at home or at a charging station. No other car offers this comfortable option.
Extensive equipment
The new second generation smart fortwo electric drive is based on the successful smart fortwo coupé/cabrio with extensive equipment. As well as air conditioning with automatic temperature control and pre-air conditioning, the equipment includes smart radio 9, electric power steering, electric windows, electrically adjustable and heated door mirrors, a two-spoke leather steering wheel, leather gear knob and 12-spoke alloy wheels. In addition to the battery indicator, an ammeter shows the consumption and the recuperated energy. Furthermore, all new generation smart fortwo electric drives feature green wheel rims, door mirror caps and contrast components and a green tridion cell. The words "electric drive" on the rear and in the mirror triangle also draw attention to the vehicle's environmentally friendly drive.
Very low costs
Based on the average electricity price in Germany, the smart fortwo electric drive can travel 100 kilometres for around 2 euros (in other European countries or with cheap off-peak electricity the costs can be even lower). This is less than the price of two litres of petrol. The maintenance costs are considerably lower than those of a smart with a combustion engine as the battery, motor and other components of the electric drive are practically maintenance-free.
In addition to the low running costs, there are further cost advantages in lots of countries and cities. For example, drivers of a smart fortwo electric drive are entitled to national subsidies, tax advantages or exemption from local toll charges such as the city centre congestion charge in London. A further example: Monaco gives a subsidy of up to 9000 euros towards the purchase of an electric vehicle.
smart fortwo electric drive in major cities in Europe and the USA
From the end of 2009 the second generation smart fortwo electric drive will be delivered to customers who will drive the vehicles for a period of four years. The first vehicles will take to the roads of Berlin where Daimler AG is currently creating ideal conditions for running battery-driven vehicles with no local emissions within the framework of the project "e-mobility Berlin" in cooperation with the utility company RWE and with the support of the German government and the city of Berlin. This includes establishing a network of electricity charging stations where vehicles can be charged as an alternative to charging them at home.
From 2010 a total of 1000 new generation smart fortwo electric drives will take to the roads of Paris, Rome, Milan, Pisa, Madrid, Hamburg and Switzerland, and they will also be deployed in further projects in Europe and the USA. There is already a very lively demand for the smart fortwo electric drive, and from 2012 it will be produced in large volumes as a normal part of the smart range and sold via the smart dealer network.
More than ten years ago the smart fortwo revolutionised individual mobility. The electric variant of the cult two-seater car is now redefining city driving once more. The brand is demonstrating its role as a trendsetter and its technical innovation.