A-class
PeterH on October 7th, 2018
New entry-level model opens up the world of driving performance
Affalterbach. Emotional, agile and digital: with the A 35 4MATIC (combined fuel consumption 7.4-7.3 l/100 km; combined CO2 emissions 169-167 g/km) Mercedes-AMG is presenting a completely new entry-level model in the world of driving performance.
It is based on the new Mercedes front-wheel drive platform and is powered by a new 2.0-litre four-cylinder turbo engine with output of 225 kW (306 hp).   (more…)
PeterH on October 6th, 2018
Herald of a new generation
Stuttgart/Shanghai. With the Concept A Sedan at Auto Shanghai Mercedes-Benz is providing an outlook of the next generation of compact vehicles and a potential, new body type.
PeterH on August 31st, 2018
Compact entry into the world of Mercedes-Benz premium sedan cars
Stuttgart. The family of compact cars from Mercedes-Benz continues to grow: The A-Class Sedan will be launched at the end of 2018.
The four-door sedan car has a wheelbase of 2729 millimetres and the proportions of a dynamic and at the same time compact sedan car with short overhangs at the front and rear.
PeterH on August 30th, 2018
Environmental Certificate audit passed
The Mercedes-Benz models A 180 d (with dual-clutch transmission; combined fuel consumption: 4.5-4.1 l/100 km; combined CO2 emissions: 118-108 g/km) and A 200 (with dual-clutch transmission; combined fuel consumption: 5.6-5.2 l/100 km; combined CO2 emissions: 128-120 g/km)1 have successfully completed the TÜV validation audit for the Environmental Certificate.
PeterH on July 20th, 2018
Modern luxury redefined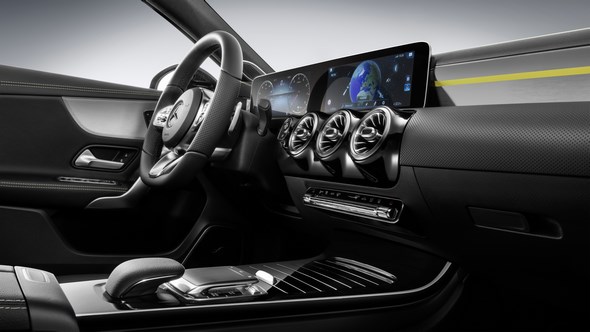 Stuttgart. The interior of the A-Class is a completely new departure, and revolutionises the compact class from the inside with a new feeling of spaciousness. The unique architecture is particularly marked by the avantgarde design of the dashboard. There is much a more generous amount of interior space.
Continue reading about The new A-Class: TecDay Interior Design
PeterH on September 15th, 2017
Ingeniously compact: 20 years of the Mercedes-Benz A-Class
Who dares wins: looking back, that could have been the guiding principle for the development and market launch of the Mercedes-Benz A-Class. In March 1997, the brand unveiled its new pioneering model to a global public at the Geneva Motor Show.
Bearing the internal designation of the W 168 model series, the newcomer attracted a great deal of attention – and, a short time later, a certain amount of criticism too after an A-Class tipped over in the so-called "moose test" conducted by motoring journalists from Sweden.