NEWS
News on the A, CLA and GLA-Class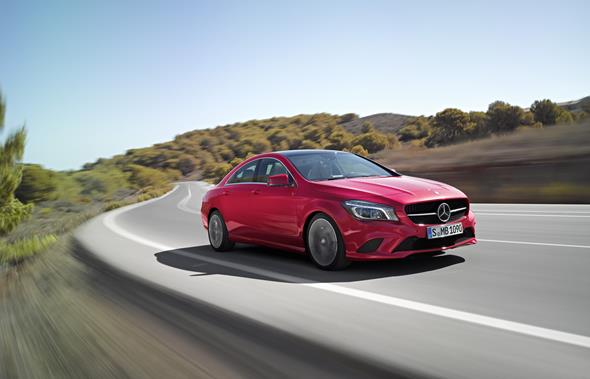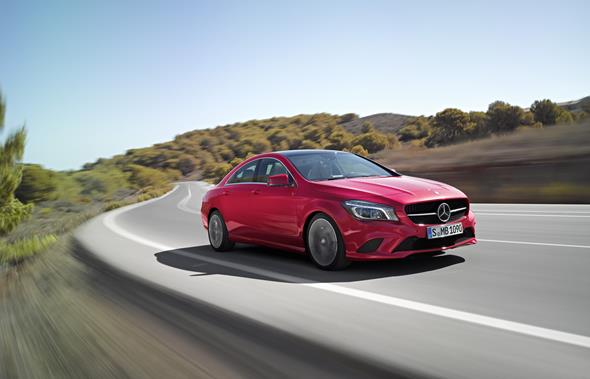 Five more reasons for success
Stuttgart.  The diversity of models making up the successful compact class family from Mercedes-Benz is growing even further: with the CLA 200 CDI 4MATIC and CLA 220 CDI 4MATIC, the first all-wheel drive diesel variants of the new compact coupé will be making their debut in autumn.
The CLA 200 CDI, as a front-wheel drive variant, is also to feature a new engine with a displacement of 2.2 instead of 1.8 litres.
Furthermore, another new arrival in dealerships in September will be the A 220 4MATIC, an additional A-Class petrol model with all-wheel drive.
And with the GLA 180 CDI, Mercedes-Benz is expanding the GLA-Class model range with a particularly economical entry-level model, which with the 7G-DCT dual clutch transmission boasts a combined fuel consumption of just 3.9 l/100 km.
Mercedes-Benz is extending the range of models in the successful compact class even further: with the new versions of the A, CLA and GLA-Class, in future there will be a further five good reasons to drive a Mercedes in the compact class too.
Across the board the new models already currently meet the Euro 6 emissions standard and feature the ECO start/stop system as standard.
The models of the CLA and A-Class can be ordered with immediate effect, while the A 220 4MATIC will be available to order from 31 July. The new versions will arrive in dealerships from September 2014.
The success story of the new compact car generation, which began back in November 2011, continues unabated: in the first half of 2014 some 215,205 customers opted for an A, B, CLA or GLA-Class (+24.1% compared with the same period last year).
"Our compact models have proved exceptionally popular with customers and provide younger customers in particular with an attractive means of gaining entry into the brand.
This is reflected in the capture rate enjoyed by the compact car family", says Ola Källenius, Member of the Mercedes-Benz Cars Divisional Board responsible for Sales.
A 220 4MATIC: fourth all-wheel drive petrol model
After the A 250 4MATIC, A 250 Sport 4MATIC and A 45 AMG 4MATIC, another A-Class petrol model featuring all-wheel drive is now making its debut in the guise of the A 220 4MATIC.
The new model generates 135 kW (184 hp) from its 1991 cc four-cylinder turbocharged engine, accelerates to 100 km/h in 7.4 seconds and consumes 6.3 l/100 km, which corresponds to CO2 emissions of 148 g/km.
CLA 200 CDI: new diesel version
The engine of the CLA 200 CDI now has a displacement of 2.2 litres as opposed to 1.8 litres, the maximum output stands at 100 kW (136 hp) and maximum torque at 300 Nm.
This engine incorporates numerous efficiency-enhancing measures. The modifications include optimisation of the belt drive system, a cylinder head package with camshaft roller bearing and additional finishing, optimisation of the vacuum pump, aluminium pistons with optimised assembly clearances and a low-friction ring package and optimised roller bearingfor the Lanchester balancer shaft.
The CLA 200 CDI is even available in three model versions:
with manual transmission
with 7G-DCT dual clutch transmission
and also as a 4MATIC version (with 7G-DCT dual clutch transmission as standard)
The combined fuel consumption starting from 4.1 litres of diesel per 100 kilometres (CLA 200 CDI with manual transmission, with 7G-DCT: 4.0 l) is outstanding for this performance class and is one tenth better than the previous model with the 1.8-litre engine. The CLA 200 CDI is rated in efficiency class A+ and the CLA 200 CDI 4MATIC in efficiency class A.
Also now available as an option with all-wheel is the CLA 220 CDI. With the same displacement of 2.2 litres, the powerful diesel Coupé generates 125 kW (170 hp) and 350 Nm of torque.
GLA 180 CDI: new base model
With the GLA 180 CDI, Mercedes-Benz is adding an economical entry-level model to the GL-Class model range. Key data for the four-cylinder diesel model: displacement of 1461 cc,output of 80 kW (109 hp) and maximum torque of 260 Nm in the range from 1750 to 2500 rpm.
The GLA 180 CDI has a top speed of 190 km/h and has a combined consumption figure of just 4.0 or 3.9 l/100 km (with manual transmission/
7G-DCT).
All models at a glance:
Model
A 220 4MATIC*
CLA 200 CDI**
CLA 200 CDI 4MATIC*
CLA 220CDI 4MATIC*
GLA 180 CDI**
Number of cylinders/ arrangement
4 in-line
4 in-line
4 in-line
4 in-line
4 in-line
Displacement (cc)
1991
2143
2143
2143
1461
Rated output
(kW/hp at rpm)
135/184 at 5500
100/136 at
3200-4000
100/136 at
3200-4000
125/170 at 3400-4000
80/109 at 4000
Rated torque
(Nm at rpm)
300 at
1200-4000
300 at
1400-3000
300 at
1400-3000
350 at
1400-3400
260 at
1750-2500
Combined fuel consumption from (l/100 km)
6.3 S
4.1 D (4.0 D)
4.6 D
4.6 D
4.0 D (3.9 D)
Combined CO2 emissions from (g/km)
148
107 (104)
119
119
105 (103)
Efficiency class
C
A+ (A+)
A
A
A (A+)
Acceleration
0-100 km/h (s)
7.4
9.9 (9.8)
9.8
8.2
12.0 (11.9)
Top speed (km/h)
228
220 (220)
216
230
190 (190)
*with 7G-DCT dual clutch transmission as standard **figures for model with 7G-DCT appear in brackets