Mercedes W108 S-Class 1965 – 1972

Mercedes-Benz 280 SEL 3.5 (W 108, 1965 bis 1972). Im Bild ein Fahrzeug aus dem Jahr 1972.
In August 1965, another generation of top-class models was presented with the Types 250 S, 250 SE and 300 SE, which succeeded the fintail types 220 Sb, 220 SEb and 300 SE.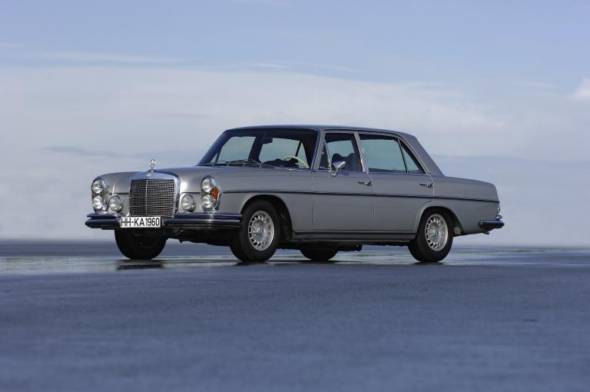 What all three models had in common was its body, which had been designed by Paul Bracq.
Its main charm was the simplicity of form, which avoided all fashionable detail, and its restrained elegance, which even today, kept its timeless essence.
From a technical point of view, all models closely corresponded to their predecessors.
Apart from the new body, there were new two 2.5-liter engines, which had been developed from the 2.2-liter aggregatens by reboring them and by increasing the stroke of the piston.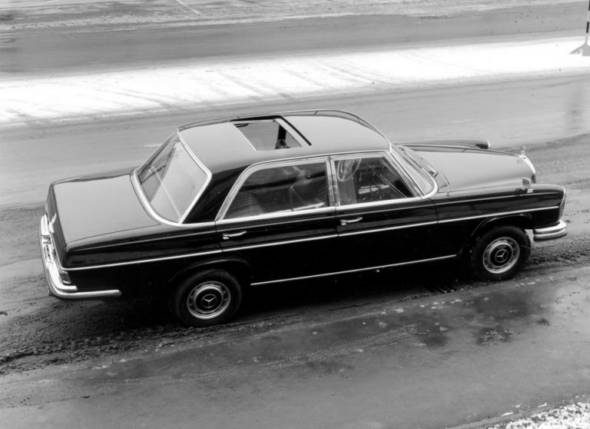 In the injection engine version, a six-piston pump was used instead of the two-piston pump. In contrast to its predecessor, the new 300 SE was no longer fitted with ais suspension.
Like the two 2.5-liter models, however, it had a hydropneumatic compensating spring at the rear axle instead of the former coil spring which maintained the level of the body at a constant level, irrespective of loads.
In March 1966, the Type 300 SEL was added to the model range.
Compared to the 300 SE model, it had a wheelbase, which was extended by 100 mm. The additional space was used for increased leg room in the rear and wider rear doors for easier access.
As had been the case with its direct predecessor with the same model designation, air suspension was part of the standard equipment of the 300 SEL, too.
Internally, the models with conventional suspension were bracketed together in W 108 series; the 300 SEL with air suspension, however, was assigned to an independent model series W 109.
Two very special versions of the 300 SEL have been developed in Sindelfingen between 1966 and 1967. However, they were not designed for batch production but made to a very special order of the Vatican.
In June 1966 a landaulet with standard wheelbase was completed, which was distinguished from the serial sedan by a single seat in the rear as well as by the landaulet-hood, extending to the front edge of the rear door.
Almost one year later, in may 1967, two identical six-seated limousines were ready for delivery with both being based on a chassis prolonged by 650 mm and comprising modified rear side doors as well as two folding rear seats.
While the landaulet was used alongside the 600 model for His Holiness, the Pullman limousine was used for the transportation of guests.
Production of the models 250 SE and 300 SE was stopped at the end of 1967; as their successors in January 1968 the Types 280 S and 280 SE were presented; they were distinguished from their predecessors only by a different engine and other equipment details.
The new 2.8-liter 6-cylinder engine delivered 140 hp in its carburettor version and 160 hp with fuel injection.

A more powerful version of the injection engine with 170 hp was not only built into the 280 SL, but from January 1968 into the 300 SEL, too, where it replaced the former 3.0-liter light-alloy engine. In March 1968 the 300 SEL 6.3 became top of the class of this model series.
It was equipped with the V8-engine and the automatic gearbox of the 600 model so that its power was equal to that of a high-level sportscar.
Its presentation at the Geneva Motor Show created a sensation, especially since there had been no hints, that a model like this was to be forthcoming.
From outside, the 6.3 could only be recognised by its broader tires, double halogen headlights and additional distance beam headlights.
Even though it cost over DM 10.000 more than a 300 SEL and twice as much as the 280 SE, many customers were interested in the 300 SEL 6.3, so that 6,526 units were produced.
In Autumn 1969, the 300 SEL with 2.8-liter 6-cylinder engine was replaced by the 300 SEL 3.5, which was powered by a completely new "small" V8-engine with 3.5 liter cubic capacity and 200 hp.
From March 1971 this new engine were also used in the 280 SE 3.5 and 280 SEL 3.5 models, which had conventional steel-spring suspension.
The 280 SE with 6-cylinder engine was still available, whereas the 280 SEL was taken out of the sales programme to make room for the 8-cylinder model.
Parallel to the 3.5-liter V8-engine, a more powerful version with a cubic capacity of 4.5 liters was produced exclusively for the American market.
From May 1971 export models 280 SE 4.5, 280 SEL 4.5 and 300 SEL 4.5 were available with this type of engine. A special 108/109 series model, which was never sold on the market, a security version of the 280 SEL 3.5 was built in 1971.
As no further special protection cars had been produced by Daimler-Benz following the completion of the bullet-proof 600 Pullman limousine, several federal authorities put forward a request to that effect.
Due to attacks carried out on diplomats in Latin America in 1970, the foreign office saw the necessity to give special protection to certain ambassadors' and consuls' cars.
The result of these efforts was the armour-plated version of the 280 SEL 3.5, 28 of which were built between May 1971 and September 1972.
Production of the very successful W 108/109 series ended in September 1972. It was succeeded by the 116 series S-Class models.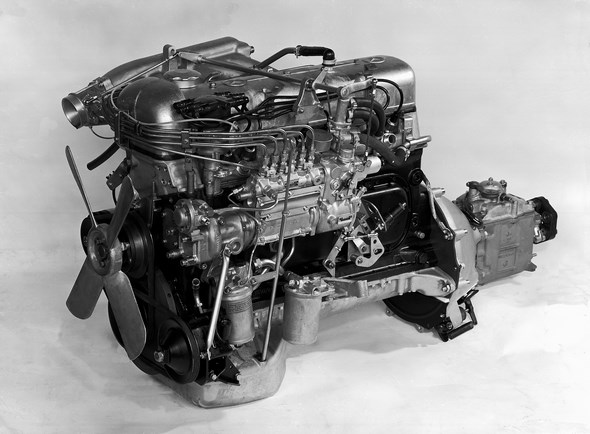 Random Quote
Life is what happens to you while you're busy making other plans
— John Lennon
Polls

Loading ...