Mercedes W203 C-Class 2000 – 2006
The new generation C-Class
More dynamic, impressive and attractive: Mercedes-Benz makes new emphases in the C-Class
Stuttgart – Four years after its launch, Mercedes-Benz is significantly upgrading the successful C-Class in terms of technology, equipment and design.
The suspension, steering and six-speed manual transmission have a more sporty configuration, ensuring that the C-Class offers an even more agile driving experience.
From spring 2004 a 141 kW/192 hp supercharged four-cylinder engine will join the engine range available for the Saloon and Estate models.
In future the C 220 CDI will have an output of 110 kW/ 150 hp, which is 5 kW/7 hp more than before.
With the new 270 kW/367 hp C 55 AMG Mercedes-Benz is offering an eight-cylinder unit for the first time in this model series.
The interior of the new C-Class has been upgraded by a new cockpit design with sophisticated new controls, line-specific seats and THERMATIC automatic climate control as standard.
The innovative, more scratch-resistant paintwork based on nano-technology is likewise standard.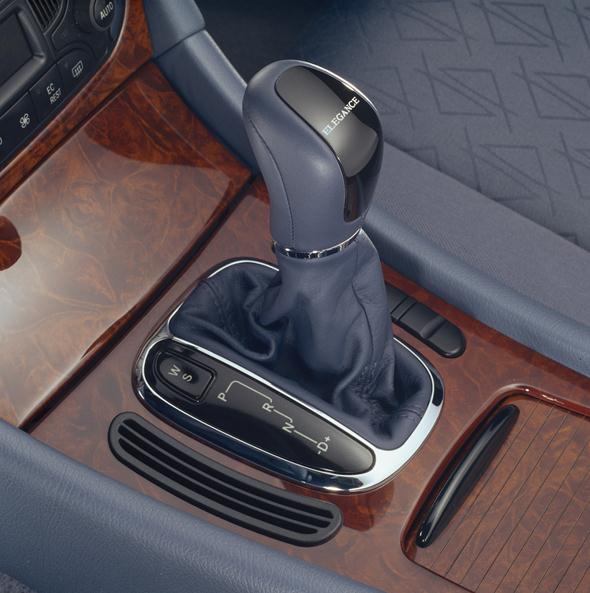 Bi-xenon headlamps with cornering light function, steering-wheel gearshift buttons for the automatic transmission and new audio/navigation systems round off the highly desirable, high-tech specification.
Even at standstill the redesigned front end with its bumper, radiator grille and headlamps conveys the dynamic characteristics of this Mercedes model series, which is available as a Saloon, Estate and Sports Coupé.
With state-of-the-art technology, good long-distance comfort and sporty agility, the C-Class has won the hearts of more than 1.26 million drivers worldwide since May 2000.
Never before has Mercedes-Benz sold so many vehicles from one model series in such a short time.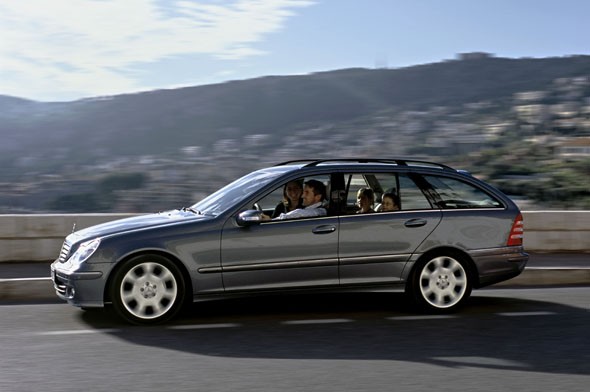 In addition to the sporty and elegant Saloon, the C-Class model family features the versatile Estate as well as the youthful and agile Sports Coupé, both of which were launched in March 2001.
Mercedes-Benz has now reinforced the well-proven characteristics of the C-Class with an intensive model facelift, at the same time making new emphases in terms of dynamism, comfort and perceived value.
Exterior: redesigned front end, wider tyres and more scratch-resistant paintwork
The more dynamic appearance is above all created by the redesigned front bumper with its striking, sportscar-like lower air intake and the likewise redesigned radiator grille, which has three slats, appears wider and therefore conveys an impression of power.
Depending on the model and equipment, these slats are painted or embellished with a sporty matrix of perforations. In future Mercedes-Benz is equipping the C-Class with clear-lens headlamps as standard.
An increase in track width from 1493 to 1505 millimetres, 16-inch tyres as standard and wide-base tyres of size 205/55 R 16 also emphasise the dynamic appearance of the C-Class.
In addition the CLASSIC and ELEGANCE lines are equipped with the more sporty side skirts and rear bumper of the AVANTGARDE line.
An even longer-lasting shine is guaranteed by the newly developed, more scratch-resistant paintwork, which is based on nano-particle technology and reinforces the legendary long-term quality of Mercedes. This too is standard equipment.
Interior: new cockpit design and high value impression
Mercedes designers have upgraded the interior of the C-Class with great care and attention to detail.
This is shown not only by the discreet chrome trim on various controls on the dashboard, but also by newly developed switches and the modified seat design, which underlines the character of the different lines and offers even better seating comfort.
Four clearly arranged dial instruments with white lighting in the style of high-quality chronometers form the centrepiece of the completely redesigned cockpit.
Between the speedometer and rev counter, information appears in a vertical central display which corresponds to the buttons on the multifunction steering wheel and allows numerous individual settings to be selected.
The form and function of the air conditioning controls has also been improved: large, clearly arranged rotary switches make adjustment easier and make a further contribution to the high-value impression in the interior.
Even the basic CLASSIC model is equipped with new exotic wood trim which highlights the high-quality appearance of the centre console and transmission tunnel cladding.
In the AVANTGARDE line there is a choice of aluminium or optional bird's-eye maple trim. The seats of this model variant are upholstered in a combination of fabric and the new material ARTICO as standard.
In addition, the C-Class Sports Coupé emphasises its youthful and dynamic character with a new three-spoke steering wheel featuring solver-coloured control buttons, aluminium trim on the centre console and sports seats.
THERMATIC automatic climate control is also standard equipment in the Sports Coupé.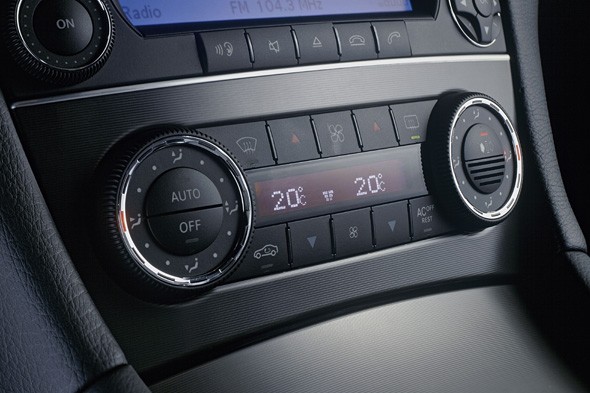 Chassis: axles, steering and transmission with a sporty configuration
Even more superb handling dynamics are ensured by various technical modifications to the suspension, steering and manual transmission in the C-Class.
This package of measures, which is known as DIRECT CONTROL, includes newly developed front and rear axle bearings which provide more agile cornering with no loss of comfort, a more direct steering ratio and reconfigured standard and sports suspension systems.
The new six-speed manual transmission is now easier to operate, more precise and has a shorter shift travel.
In the C 320 and models with the sports package/AMG sports package and EVOLU-TION/EVOLUTION AMG (Sports Coupé) Mercedes-Benz now installs a transmission with a sporty configuration and significantly shorter shift travel.
Engines: powerful new petrol unit and higher output for the C 220 CDI
Mercedes-Benz has extended the range of engines for the Saloon and Estate models with a 141 kW/192 hp supercharged engine which was previously only available for the Sports Coupé.
With a maximum torque of 260 Newton metres, this four-cylinder power unit accelerates the C 230 KOMPRESSOR from zero to 100 km/h in 8.1 seconds (Estate: 8.7 s) and provides a maximum speed of 240 km/h (Estate: 235 km/h).
Thanks to the TWINPULSE system, which combines various technologies such as a supercharger, balancer shafts, intercooling, variable camshaft adjustment and four-valve technology, this engine consumes only 8.9 litres of fuel per 100 kilometres (NEDC overall consumption; Estate: 9.3 l/100 km).
The output of the well-proven four-cylinder diesel in the C 220 CDI has been increased to 110 kW/150 hp (previously 105 kW/143 hp).
This engine is equipped with second-generation common-rail direct injection and runs with exemplary smoothness by virtue of balancer shafts. Fuel consumption is just 6.1 litres per 100 kilometres (NEDC overall consumption; Estate 6.5 l/100 km).
Thanks to a technically sophisticated, additive-free particulate filter system the diesel models C 200 CDI and C 220 CDI already meet the EU-4 exhaust emission limits valid from 2005.
C 55 AMG: new performance standards in this vehicle class
With the new C 55 AMG Mercedes-Benz is offering an eight-cylinder model in the current C-Class for the first time, thereby entering the performance domain of thoroughbred sports cars: 270 kW/367 hp and 510 Newton metres of maximum torque are previously unattained peak values in this vehicle class.
From standstill the new C 55 AMG accelerates to 100 km/h in only 5.2 seconds, and guarantees sporty driving pleasure at the highest level with its standard sports suspension and five-speed automatic transmission with steering-wheel gearshift buttons and AMG SPEEDSHIFT.
Externally the C 55 AMG is distinguishable from the other models in the C-Class by its striking front-end design, with elliptical twin headlamps and an approx. 80- millimetre longer front-end structure.
This makes it possible too install the beefy V8 engine.
The striking design of the side skirts, boot lid and rear bumper also emphasises the high-performance character of the eight-cylinder model. 18-inch light-alloy wheels, tyres in size 225/40 R 18 (front) and 245/35 R 18 (rear), AMG sports seats with Alcantara upholstery and a decidedly sporty instrument cluster with silver-coloured dials are further special features of the new C 55 AMG, which is available as a Saloon or Estate and replaces the previous C 32 AMG.
Technology: premiere of newly developed cornering light function
The C-Class is reinforcing its reputation as a technology trendsetter in this market segment with innovations for even more safety and comfort.
These include powerful bi-xenon headlamps, which Mercedes-Benz has combined with a special cornering light function.
This is integrated into the fog lamps, which illuminate the areas in front of and to the sides of the vehicle over a wide angle, so that pedestrians and cyclists can be seen more easily when cornering.
Even tight bends are more clearly visible with this system.
From spring 2004 an even more efficient generation of car radios will enter the C-Class. In addition to the radio/CD combination Audio 20 CD, two new units with an integral navigation system will be available: Audio 50 APS and COMAND APS.
These make Europe-wide navigation with dynamic route guidance possible on the basis of up-to-date traffic information.
The top-of-the-line model COMAND APS is also equipped with a CD player, DVD navigation, a large colour screen (6.5'') and four 50-watt amplifiers. SMS messages and e-mails can also be received and answered with this unit.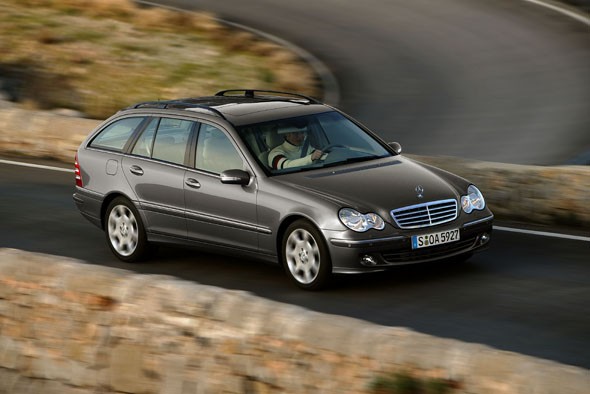 The C-Class is now also available with a 320-watt sound system with surround sound and the voice control system LINGUATRONIC, which operates the car telephone and numerous audio functions by voice commands.
Mercedes-Benz is the first manufacturer to offer voice control for navigation destinations in this vehicle class.