C2X – A Social Network for Automobiles
Social networks have become a well-established way of exchanging information quickly and easily.
Now, one of the largest ever field trials of car-to-X communication (C2X) is set to show how this concept can be adapted in order to increase the road safety and efficiency of motor cars.
The trial consists of 120 vehicles that will take to the roads of the Rhine-Main region until the end of the year. These experiments are part of the simTD research project headed by Daimler.
The name simTD stands for "Safe Intelligent Mobility – test field Germany".
The project simTD is a collaboration between German car makers, automotive suppliers, communications companies, research institutes and the public sector.
Each car has a network link to the others, as well as to the traffic infrastructure, and they will keep each other updated about the current traffic situation.
For example, if the tail-end of a traffic jam on the German highway A5 is hidden behind the crest of a hill, vehicles approaching the problem area can be alerted in good time, allowing the driver to take appropriate action.
In situations where drivers have difficulty seeing what's happening on the road ahead of them, for example on the German federal highway B3, C2X technology can help to prevent pileups, e.g. by providing information about an emergency stop to traffic further back, even if the actual brake lights may be hidden by a lorry.
C2X systems can also do their bit to make traffic more efficient and thus more environmentally friendly, e.g. by helping to control traffic light systems according to demand, thereby optimising traffic flow.
In addition, it can offer a range of convenient functions such as suggested routes to the nearest available car park. That makes C2X communication a key element in the technology of the driver assistance and safety systems of the future.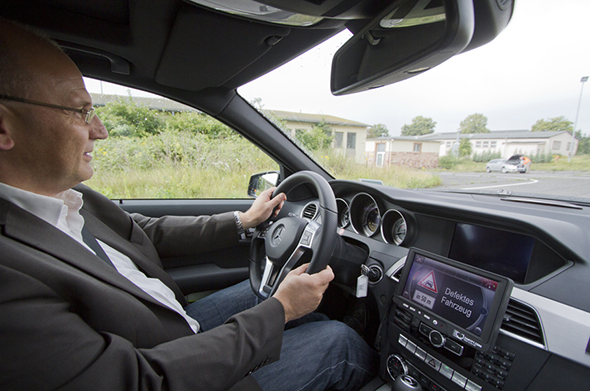 Obstacles are shown on the vehicle's display.
Research project simTD 
The aim of the recently started field trial is to test the systems' suitability for everyday use in real-life traffic conditions.
"We are convinced that C2X communication is going to play an important role in the mobility of the future," said the overall simTD project leader Dr. Christian Weiß, who is in charge of cooperating systems at Daimler Research and Advance Development.
"C2X communication allows us to detect objects and hazardous situations far beyond the immediate environment of the vehicle. This is a significant step on the path towards accident-free driving."
Project simTD, a collaboration between German car makers, automotive suppliers, communications companies, research institutes and the public sector, is sponsored and supported by Germany's Federal Ministries of Economics and Technology (BMWi), Education and Research (BMBF), and Transport, Building and Urban Development (BMVBS), as well as the Federal State of Hessen.
For Daimler as a pioneer in the area of vehicle safety, C2X communication and the resulting assistance systems are of enormous importance.
International activities
Daimler is also engaged in C2X communication research in the US. At its site in Palo Alto, California, it is fitting C2X systems to vehicles and carrying out tests.
Its US research enables Daimler to address the particular requirements of the American market with regard to C2X communication, and to achieve the greatest possible level of technological harmonisation.
In addition to its participation in project simTD and its US-based research, Daimler's strong support for C2X communication is also evident from its long-standing involvement in other projects in this area.
For instance, the Group initiated pivotal research projects such as NoW (Network on Wheels) and Fleetnet, the results of which have been incorporated into the current C2X testing and its standardisation.
Furthermore, Daimler is a founding member of the CAR 2 CAR Communication Consortium (C2C CC) and is working towards a harmonisation of this technology across Europe with the project DRIVE C2X.
Car-to-X Communication
Expand your horizons
Although modern cars can scan their surroundings with radar, camera and ultrasonic sensors, they cannot see around corners. This is where Car-to-X technology comes in.
It can forward information to other vehicles some distance away thanks to intelligent communication systems and thus warn other road users of dangerous situations at an early stage, for example.
Icy road around the next bend? An emergency-service vehicle 500 metres away? A sudden traffic jam at spontaneous road works?
These nasty surprises are factored out of the equation if the approaching motorist is given an accurate warning in plenty of time.
Other vehicles will be able to do this in future by warning other road users automatically once they have registered a hazard.
This is the principle of Car‑to-X communication, which Mercedes-Benz has initiated, becoming the world's first car manufacturer to introduce it for production vehicles.
Car-to-X technology is able to significantly expand the scope of existing vehicle sensors, such as radar or camera systems for example.
It allows dangerous situations automatically detected in the vehicle or manually reported by the driver to be conveyed to other vehicles, making it possible to "see" around corners or through obstacles.
Consequently information about potential hazards on the road can be forwarded to drivers at an early stage so that they can prepare for them and avoid critical situations altogether – such as those caused by suddenly changing weather conditions or stationary recovery vehicles at the side of the road.
As well as being able to receive hazard warnings, every vehicle equipped with Car‑to-X technology can also send these warnings to other road users.
As a result of the seamless integration of the Car-to-X system into the existing vehicle systems, Mercedes-Benz passenger cars are able to detect a variety of sources of danger, for example a breakdown or slippery roads, automatically. The driver does not need to do anything.
For Car-to-X Communication, Mercedes-Benz uses the vehicle's integral mobile-phone technology as, thanks to its widespread use, it can unleash the potential of Car-to-X technology in the fastest time.
In the Daimler Vehicle Backend, the data are aggregated, checked for plausibility and forwarded to other similarly equipped vehicles in the relevant vicinity.
The system is configured to receive information from approaching rescue vehicles, such as police or fire-fighting vehicles, if the relevant data are provided by the respective operators in future.
The dangerous situation in which drivers do not hear sirens could therefore become a thing of the past.
Preparations are likewise under way for integrating further sources of data.
Car-to-X Communication operates in the background and does not distract the driver's attention from the road. It provides the driver with early and accurate information in safety-critical situations.
Car-to-X technology can therefore be integrated into the "Mercedes-Benz Intelligent Drive" strategy seamlessly.
By becoming the world's first manufacturer to introduce Car-to-X technology for production vehicles, Mercedes-Benz is once again reaffirming its role as a safety pioneer, and demonstrating that its engineers are continuing to work consistently to bring to the roads innovations which can be used not only by our customers but also by other road users.