NEWS
100 gullwing models in front of the Mercedes-Benz Museum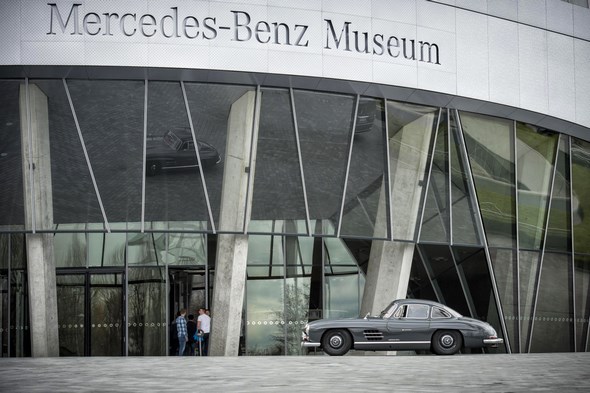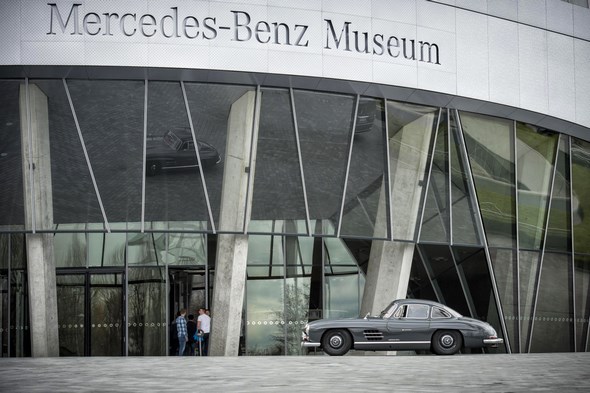 Never before have there been so many of these dream cars at the Mercedes-Benz Museum at the same time: from 8 to 11 June 2017 the Mercedes-Benz 300 SL Club e. V. will be guesting in Stuttgart with its annual meeting – and it goes without saying that the members will be arriving in their automotive treasures.
Around 100 cars are expected on Saturday, 10 June 2017 on the museum hill. Alongside the famous "gull-wing" there will of course also be the open-top roadster.
Stuttgart. The ears of Mercedes-Benz fans prick up when they hear the word "gull-wing": The 300 SL is a 1950s dream car and one of the most famous vehicles from the brand with the star.
The Mercedes-Benz 300 SL Club e. V. has committed itself to actively cultivating these exciting automotive witnesses of history. Its 38th international annual meeting is being held from 8 to 10 June 2017 in Stuttgart – with the Mercedes-Benz Museum at the centre of all the activities. It is from here, for instance, that the members will be departing for day trips in the local region.
The schedule also involves the members parking their classic cars directly on the museum hill. That will not only make it an al fresco exhibition area for around 100 coupés and roadsters with the resonant name 300 SL; it will also give visitors the unique opportunity to experience a parade of the rare dream cars in the afternoons and mornings.
This will be the strongest presence so far of these legendary Mercedes-Benz sports cars against the architectural backdrop of the museum. This year the open-top version – the 300 SL Roadster (W 198 II, 1957 to 1963) – is celebrating its 60th anniversary.
Worldwide there are some 80 Brand Clubs officially recognised by Mercedes-Benz, with around 100,000 members. Mercedes-Benz Classic honours and supports their work through the professional Club Management and provides services such as establishing important contacts for workshops, replacement parts supplies, vehicle trade and the Mercedes-Benz Classic archive.
The Mercedes-Benz 300 SL Club e. V. has around 300 members and is celebrating its 40th anniversary in the coming year. They are linked by their passion for the Mercedes-Benz 300 SL "Gull-wing" (W 198, 1954 to 1957) and 300 SL Roadster (W 198 II, 1957 to 1963) sports cars. The open-top version is celebrating its 60th birthday this year.
The sportiness in the genes of the Mercedes-Benz brand is evident to particularly powerful effect in these 300 SL models: they are closely related to the 300 SL racing car from the model series W 194 which enjoyed such huge success in motorsport in 1952.