NEWS
A pioneer goes into retirement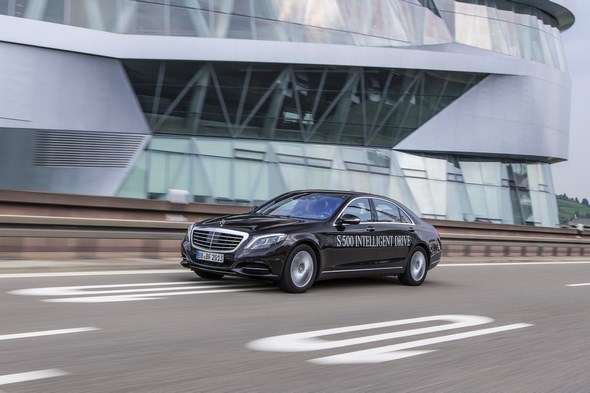 The "Bertha Benz" S-Class successfully drove autonomously from Mannheim to Pforzheim in 2013.
Now, just three years later, it is being retired to the Museum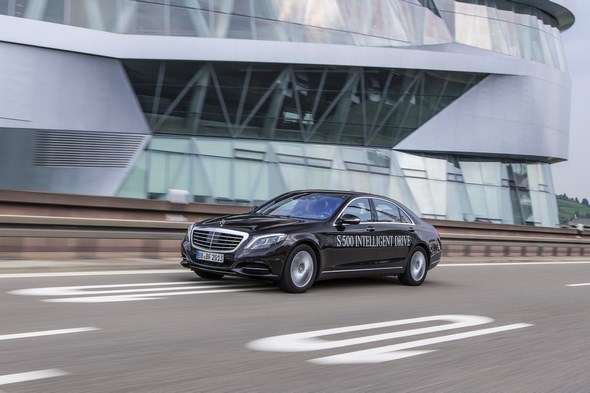 It has shown what is technically possible in principal: when "Bertha", as the S 500 INTELLIGENT DRIVE research vehicle was known inside the company, autonomously drove the historic route from Mannheim to Pforzheim in autumn 2013, she proved that self-driving cars are no longer something out of science fiction.
By completing the world's first autonomous journey in everyday overland and city traffic, she succeeded – like her namesake 125 years previously – in making a pioneering achievement.
That "Bertha" gets it rightful place of honor in the Mercedes-Benz museum shows, how fast self-drive technology is advancing.
From 26 July until 25 September, she will be on show in the Atrium (entrance hall), where she can be admired by visitors.
Equipped with close-to-production technology and abundant computing power, she was on the road in 2013 to provide the development engineers at Mercedes-Benz with valuable findings based on the new E-Class, where a new milestone has been achieved.
"The sum of technologies for the interconnection of state-of-the-art assistance systems makes the E-Class the most intelligent saloon in its class – a digital native," explains Prof. Dr Thomas Weber, Member of the Board of Management of Daimler AG, responsible for Group Research & Mercedes-Benz Cars Development.
In Nevada, the highly automated standard-production E-Class has been granted a licence for an autonomous driving trial.
Despite innovative features such as DRIVE PILOT and Active Brake Assist with cross-traffic function and pedestrian detection, the vehicle can still not be left entirely to its own devices in everyday traffic.
What still needs to be done? The interconnection of the sensors requires further optimisation, and the sensors themselves still have potential for improvement.
For instance, they are still highly dependent on the weather, with great challenges being posed by heavy rain, snowfall and consequent fouling of the sensors.
"Another problem, strangely enough, is traffic lights, which must under no circumstances be misinterpreted," explains Prof. Dr Ralf G. Herrtwich, Head of Vehicle Automation and Chassis Systems at Mercedes-Benz.
If there are many sets of lights at a junction, the challenge is to identify which lights are relevant for the vehicle.
This also requires the detection of arrows that are just a few pixels in size from a certain distance. There is often also the problem of backlight. "This is where we are at the technical limit of what present-day sensors can detect," adds Herrtwich.
A further focus is on even more precise environment recognition through improved image interpretation.
"With the help of deep learning methods, there has been a significant improvement in the way a vehicle is able to classify its environment," says Herrtwich.
So-called deep learning computers interpret images not pixel by pixel, but in their entirety.
The on-board computer need no longer be trained in every detail. It can identify key characteristics and similarities in images and is capable of interpreting typical street scene structures of one city and applying them to those of another city.
The further development of vehicle sensors for even better environment recognition, as well as even more extensive connection of vehicles with each other and with the infrastructure, are building blocks on theway towards making cars ever more intelligent.
The goal is to take more pressure off the driver by enabling the vehicle to act autonomously in stressful situations.
However, the ultimate responsibility still rests with the human, who is able to intervene at any time. With the integration of deep learning methods, the developers are pursuing a revolutionary goal: the development of the fully driverless vehicle.
A corresponding pilot project was launched last year by Bosch, car2go and Daimler: automated parking in a multi-storey car park.
A customer uses their smartphone to book a vehicle from car2go. As soon as the user is ready in the pick-up zone of the multi-storey car park, the car is fetched automatically and the journey can begin.
The vehicle can be returned just as conveniently. The customer parks the vehicle in the drop zone and hands back the vehicle via their smartphone.
Once registered by the intelligent multi-storey car park system, the car is started and guided to an assigned parking spot.
The next step is the idea, that car-sharing deals would generally become more customer-friendly. Customers would not have to bring fetch their vehicl, but it would automatically come to them.
A quite realistic scenario, in its implementation, Daimler AG is working intensively together with partners.