NEWS
Picture book setting and idyllic routes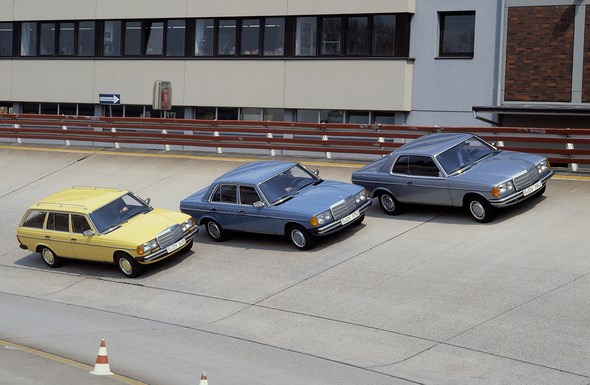 Olympic gold medallist Lars Riedel lines up for Saxony Classic 2016 rally in Mercedes-Benz 500 SL
The Saxony Classic rally (18 to 20 August 2016) aptly describes itself as Saxony's longest car museum.
Around 200 classic vehicles are registered to take part this year, and will be seen on some of the state's stunning roads and on the Sachsenring.    
The museum on wheels will feature three worthy classics from Stuttgart: a 300 SL Roadster (W 198), a 500 SL (R 107) and a Mercedes-Benz 230 (W 123). The 300 SL is to be driven by Wilfried Porth, board member of Daimler AG.
The Zwickau-born discus thrower Lars Riedel, gold medallist at the 1996 Olympics and five times world champion, will be behind the wheel of the 500 SL on Saxony's roads.
Stuttgart. "I'm over the moon that the Saxony Classic is starting in Zwickau, where I was born," commented Lars Riedel.
"Classic cars have always been a hobby of mine. I'm particularly looking forward to the reception from the local fans." Riedel's car for the Saxony Classic 2016 is a dream in silver: with its V8 engine, the 500 SL has an output of 170 kW (231 hp), which made it the new flagship model in the SL series back in 1980.
The success of the R 107 SL model series is indicated by its long production run of over 18 years, from 1971 until 1989.
Another dream car, but dating from the 1950s and 1960s, is the 300 SL Roadster. Introduced in 1957, it superseded the legendary 300 SL "Gullwing", which had marked Mercedes-Benz's triumphant return to the super sports car market segment in 1954.
To this day the cars are seen as icons of the brand and it comes as no surprise that they form the centrepiece of many renowned car collections around the world.
Their lightweight, sturdy space frame and their powerful six-cylinder engine (158 kW/215 hp) with direct petrol injection underline their motor racing pedigree, while the technology is all wrapped up in timelessly stunning bodywork.
Alongside these two vehicles the Mercedes-Benz 230 appears relatively unremarkable. A four-door, five-seater saloon with 80 kW (109 hp) in this starting line-up?
Quite right: it represents the brand's unique tradition in the luxury mid-range segment, which dates back over 110 years.
Mercedes-Benz has shaped this segment with technical innovations and benchmark design. Since 1993 Mercedes-Benz's mid-range model has been the E-Class, the latest generation of which arrived in Mercedes-Benz showrooms around the world in 2016.
The Mercedes-Benz 230 that will take part in the Saxony Classic comes from the Museum's stock of ALL TIME STARS (http://alltime-stars.com) – vintage and classic cars in a technically and visually good condition, whose patina lends them a special character – and is available as part of the Collectors' Edition.
The model series 123 Saloon in distinctive sahara yellow is a treasured item with impressive road capability: with only one previous owner, this is a car with very few kilometres on the clock.
Since it was first licensed in March 1979 it has only driven around 23,000 kilometres. Its optional extras include automatic transmission, power steering, a Becker Europa radio and the right-hand exterior mirror.
The latter is not atypical: it was standard for many car brands at the time to feature an exterior mirror on the driver's side only.
With its picture book setting and idyllic routes, the Saxony Classic provides the perfect showcase for these cars. The starting field will take a short detour into the Czech Republic.
Profile of Lars Riedel
Born: 28 June 1967 in Zwickau
Gold medallist at the Atlanta Olympics in 1996, silver medallist at the Sydney Olympics in 2000, five times world champion (1991, 1993, 1995, 1997, 2001) and eleven times German champion – Lars Riedel has chalked up an impressive list of victories.
He began competitive sport as a teenager in what was then East Germany. But when political change came in 1989, his trainer lost his job and Riedel turned to his qualifications as a skilled concrete worker to earn his living.
He was rediscovered, however, and went on to become one of Germany's most successful athletes. For almost ten years he dominated national and international discus competitions.
He achieved his personal best of 71.50 metres in Wiesbaden on 3 May 1997.
The Mercedes-Benz Classic cars in the Saxony Classic 2016
Mercedes-Benz 300 SL Roadster (W 198, 1957-1963)
Mercedes-Benz unveiled the 300 SL Roadster as the successor to the 300 SL Gullwing Coupé at the Geneva Motor Show in March 1957.
On a technical level, the open-top sports car was very like the Coupé, although the modified space frame allowed the installation of conventionally attached doors, which were necessary for open-top driving.
The soft top folded away beneath a separate flap behind the seats in a few simple steps. From 1958 onwards, the Roadster was also available with a detachable coupé roof.
It was from the standard-production 300 SL Roadster that the Mercedes-Benz engineers developed the 300 SLS racing variant with which Paul O'Shea won Category D of the American Sports Car Championship in 1957.
Production of the 300 SL Roadster was discontinued after seven years in 1963, during which time precisely 1858 examples of the highly exclusive sports car were built.
Technical data for Mercedes-Benz 300 SL Roadster (W 198)
Production period: 1957-1963
Cylinders: 6/in-line
Displacement: 2996 cc
Output: 158 kW (215 hp)
Top speed: up to 250 km/h
Mercedes-Benz 500 SL (R 107, 1980-1989)
The R 107 SL model series hit the roads in spring 1971. For the first time in SL history eight-cylinder engines were at work beneath the bonnet, and the 500 SL became the new flagship model from 1980.
Following an overhaul of the engine in 1981 to reduce consumption and emissions, the V8 unit had an output of 170 kW (231 hp).
This was reflected in the car's performance figures: from 0 to 100 km/h in 8.1 seconds and a top speed of 220 km/h. In addition to elegance and quality, the vehicles also exude safety – the open-top two-seater's comprehensive safety concept was way ahead of its time.
The tank was repositioned above the rear axle to protect it in a collision, and the vehicle was fitted with a four-spoke safety steering wheel with large impact plate, dirt-resistant side windows and tail lights, and safety door handles.
Production of model series R 107 ended in August 1989, over 18 years after it had first begun. As such this SL model series set an internal company record which is unlikely to be surpassed: in the entire history of the brand, there has never been another passenger car series, apart from the G-Class off-road vehicles, which has been produced over such a long time period.
In total 237,287 R 107 models were produced in Sindelfingen, a figure which impressively demonstrates the popularity of the model series.
Technical data for Mercedes-Benz 500 SL (R 107)
Production period: 1980-1989
Cylinders: V8
Displacement: 4973 cc
Output: 170 kW (231 hp)
Top speed: 220 km/h
Mercedes-Benz 200 D – 280 E (W 123), 1976 to 1985
With a hitherto unheard of selection of models, the new-generation mid-range model series from Mercedes-Benz proved a huge hit with customers and strong demand meant that many initially had to wait up to a year for their car.
The first year alone saw the introduction of the 200, 230, 250, 280 and 280 E models plus the 200 D, 220 D, 240 D and 300 D.
The Saloon was followed in 1977 by the Coupé, a long-wheelbase Saloon and, for the first time, an Estate. In 1980 Mercedes-Benz made the anti-lock braking system ABS available for the first time in this vehicle class in model series 123 and from 1982 the driver airbag.
The model series took the success story of the brand's mid-range models to new sales records: around 2.7 million vehicles were built, almost 2.4 million of them Saloons and around 200,000 Estates.
The 230 was among the brand's most popular models from the outset and, after a production run of almost 196,000 vehicles, it was superseded by the 230 E with injection engine.
Technical data for Mercedes-Benz 230 (1979)
Production period: 1976–1980
Cylinders: 4/in-line
Displacement: 2307 cc
Output: 80 kW (109 hp)
Top speed: 170 km/h