W213
PeterH on January 24th, 2020
Extensive model facelift
Stuttgart/Las Vegas. With over 14 million units delivered since 1946, the E-Class is the bestselling model series in the history of Mercedes-Benz. Many regard it as the "heart of the brand".
In 2016 the E-Class took a major step into the future: The tenth generation set styling highlights with its pure yet emotive design and exclusive, high-quality interior. It also impressed with its wealth of innovations, for example the driving assistance systems.
Continue reading about Facts about the new E-Class: intelligence gets exciting
PeterH on January 23rd, 2019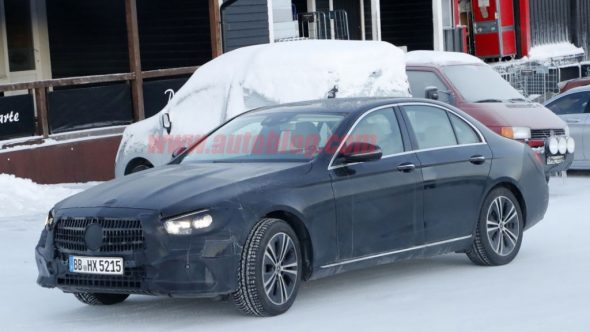 These new spy photos show that Mercedes is working on a refreshed version of its midsize sedan w213, pulling in some styling traits from some of its more recent models.
Source AutoBlog
PeterH on October 6th, 2018
Open for intense pleasure
Stuttgart. Mercedes-Benz is completing its EClass family with the new EClass Cabriolet. This open four-seater with a classic fabric soft top combines puristic, sensuous design with high long-distance comfort for four occupants and the latest technology.
PeterH on April 7th, 2017
Carbon footprint reduced by over 40 percent
Stuttgart. The Mercedes-Benz E 350 e has successfully completed the TÜV validation audit and received the Environmental Certificate. This award is based on a Life Cycle Assessment in which the independent experts at TÜV Süd (the German Technical Inspection Authority) comprehensively assess the environmental impact of the passenger car over its entire life cycle.
PeterH on March 5th, 2017
The most powerful E-Class of all time
Affalterbach. Mercedes-AMG is redefining the performance saloon. The brand is turning the most intelligent executive saloon into the most powerful E-Class of all time in the shape of the next generation of the E 63 4MATIC+ and E 63 S 4MATIC+.
Continue reading about The new Mercedes-AMG E 63 4MATIC+ and E 63 S 4MATIC+
PeterH on January 29th, 2017
First stage of AMG Performance for the E-Class
Mercedes-AMG presents the new members of the current E-Class family, the E 43 4MATIC Saloon and Estate models. They deliver the brand's hallmark Driving Performance with discrete technology, combined with a distinctive design and high everyday practicality.      (more…)
Continue reading about Mercedes-AMG E 43 4MATIC Saloon and Estate