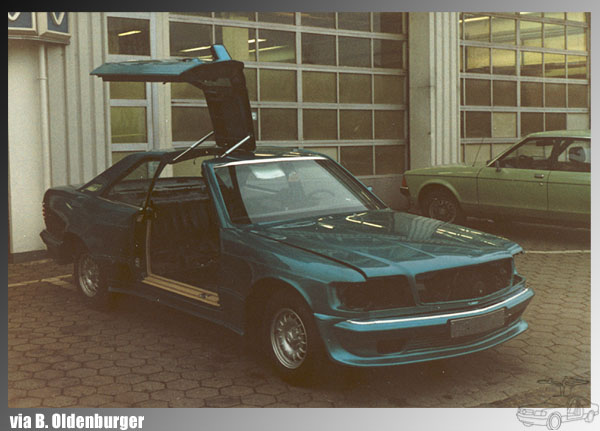 Because Styling-Garage had so many customers at a certain point of time they just couldnt cope with the demand for exotic cars that came from the middle-east. They could have done two things. Just say no or find some other company to help them out. The first wasnt really an option because SGS was in some ways the only company that could make what the sheiks were asking for. So Styling-Garage had to find a partner in crime.
Wille Karosseriebau was one of the companies that were subcontracted by Styling-Garage to build cars for them. Wille didnt just tightened the screws for SGS but did in fact build whole SGS Gullwings and Convertibles, including the famous red 500SGS Gullwing with gold-leather interior.
Not so long ago Ive come in contact with Barbara Oldenburger. Her father used to work at the Wille Karosseriebau factory and she was kind enough to send me some photos showing the SEC Gullwings and Convertibles while they are at Wille. I would like to thank her for taking the effort and time to get these photos for me.
A very interesting photo showing a green Gullwing. I have never seen this vehicle before. Note that the vehicle still has its original wheels, which will or will not be replaced at a later stage.


Another photo of the green Gullwing inside the Wille garage.

Two photos showing a Gullwing with the wide-body parts still unpainted. The car seems to be painted in a champagne color but it is highly likely it will end up in some more spectacular color!

A photo of a white SGS Gullwing in the Wille garage.


The actual red + gold Gullwing in the garage at Wille Karosseriebau. Must be the most vulgar Gullwing SGS has built.


Except the Gullwings Wille also made convertibles for SGS.
Source: Bram Corts 500SEC.com