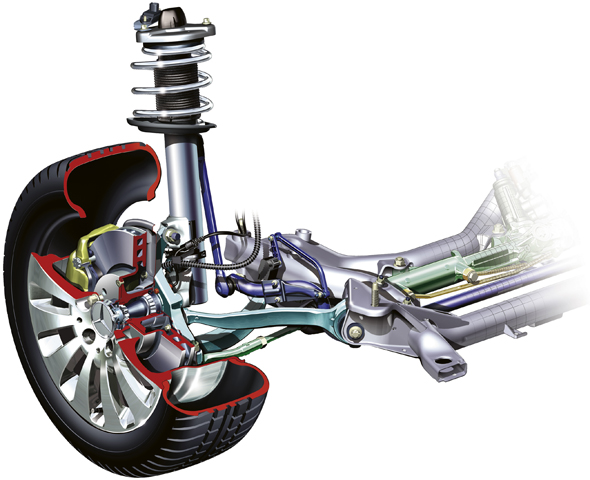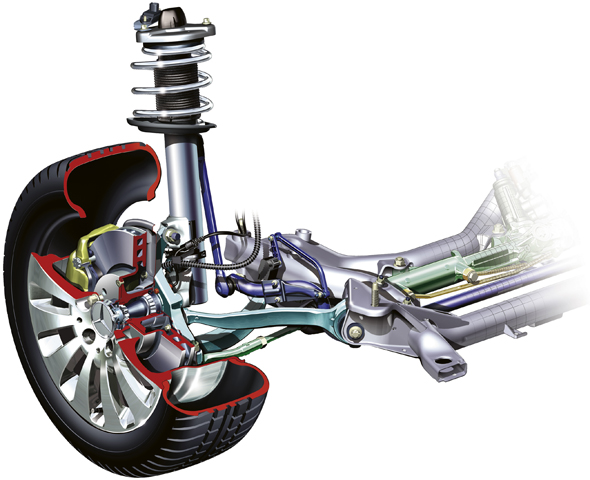 A new front suspension design makes a decisive contribution to the dynamic handling of e.g. the C-class (W203) sports coupé: the design used is a three-link suspension with McPherson suspension struts.
As well as precise wheel location, the primary benefit of this new design is that it compensates vibrations resulting from tire imbalance or brake force fluctuations more effectively than a rigid wishbone suspension.
Furthermore, a larger crumple zone is available in the event of front-end collisions, so the front of the vehicle can absorb greater impact energy than previously. The suspension struts also fulfill a dual function, as in addition to axle springing and damping, they also play an active role in front wheel location.
The suspension struts consist of cylindrical coiled springs, twin-tube gas-filled dampers and enlarged head bearings. The standard torsion bar stabilizer is connected to the suspension struts via a linkage mechanism. When cornering at speed, special rebound buffer springs at the front shock absorbers reinforce the effect of the stabilizer, ensuring that the extremely dynamic handling of the sports coupé is not at the expense of ride comfort.