MAGIC BODY CONTROL: the world's first suspension system with "eyes"
The new S-Class is the world's first car to be able to detect bumps on the road ahead.
The MAGIC BODY CONTROL suspension system available as an option for the eight-cylinder models includes Active Body Control (ABC) and the new and innovative ROAD SURFACE SCAN function.
The "eyes" for the ROAD SURFACE SCAN function are provided by a stereo camera fitted behind the windscreen, which scans the road up to 15 metres ahead of the vehicle and delivers a precise image of the road contours.
Based on the camera pictures and driving status information, the control unit constantly calculates the best control strategy for overcoming unevenness such as prolonged bumps.
[adsense]
The vehicle can therefore adjust the damping of each individual wheel to a tauter or softer setting in advance and increase or reduce the load on the wheel by means of an active hydraulic system.
The suspension is adapted to a given situation within fractions of a second, and body movement can be reduced considerably.
This results in a hitherto unprecedented level of ride comfort. Because ROAD SURFACE SCAN is camera-based, it can work throughout the day if visibility is good, the road structure is suitable and even at speeds of up to 130 km/h.
In the Active Body Control system from Mercedes-Benz, the four spring struts are equipped with hydraulic cylinders (plungers) to adjust the force in each spring strut individually.
This means that the system can almost completely compensate for lifting, rolling and pitching of the body.
The control unit receives information on the current driving situation from various acceleration sensors and then compares these data with those from the pressure sensors in the spring struts and the level sensors on the control arms.
The system then computes the control signals for the servo-hydraulic valves at the front and rear axle to ensure precisely metered oil flows.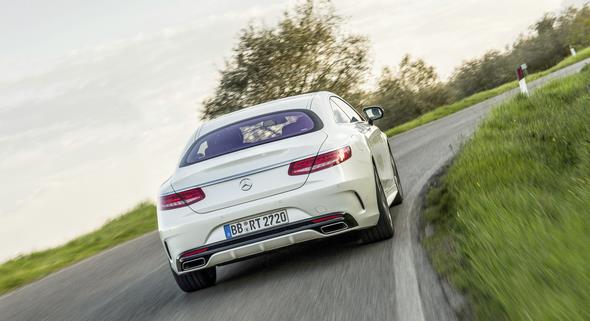 Once oil flows into the plunger cylinders, this modifies the tracing point of the steel springs integrated into the spring struts, generating the necessary force to counteract the body movements.
Thanks to a constantly available hydraulic pressure of up to 200 bar, ABC is able to stabilise the body within fractions of a second.
[adsense]
ABC has undergone major modifications for the new S-Class: the wheel damping is now continuously adjustable, the spring strut response has been improved and the pump efficiency has been further enhanced.
A digital interface connects the control unit and the sensors, while the fast FlexRay bus connects the control unit and the vehicle electronics.
Processing power is more than double that of the previous system.