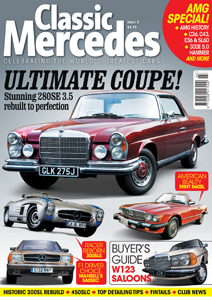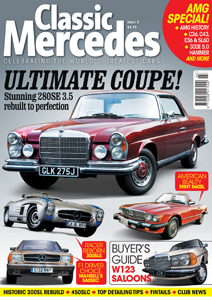 The new issue of Classic Mercedes is bulging with features that will appeal those who love Mercedes classics from the 1950s to the 1990s. 
The cover car, a beautiful 280SE 3.5 Coupe, is arguably the most stately Mercedes coupe ever, and we describe and drive the car that was the final and most powerful model in the 1961 to 1971 W111 coupe range. To complement this story, we have covered two models from the coupe generations that followed, a 450SLC and a 560SEC, the latter originally owned by 1992 F1 champion, Nigel Mansell.
We also have the full and fascinating history of AMG, the Mercedes tuner that was started in 1967 and which changed the face of performance cars, among other things being responsible for the celebrated V8 powered AMG Hammer, which we drive. We also take a close look at the first 'official' Mercedes AMG cars, launched in the early 1990s.
The biggest engined version of the R107 SL, the 560SL was never sold in Europe, so one of our US contributors tracked down a top example in southern California, the wonderful light of the Golden State really highlighting the car's spotless red paintwork and luscious tan leather. Also from California is a report on the annual Gullwing Convention, the largest gathering of 300SL Gullwings and roadsters in the US.
We celebrate the 300SLS, a factory racer specially designed to promote the launch of the 300SL Roadster in the US in 1957. The 300SLS raced in the American Sports Car Championship for one season, 1957, and won it. Just two cars were built, but none are thought to survive – but this meticulously created replica at least shows what the cars were like.
On the practical side, we have a Buyer's guide on the 1970s/1980s W123 saloon. There is also advice on how to make your tired classic Mercedes look brighter, without spending a fortune.
Issue three of Classic Mercedes brings two new items: reports from around the world on club members' activities, and your letters. After all, it is the magazine for true enthusiasts of the German marque.
These are just a taster of what to expect in the forthcoming issue – and indeed every issue – of Classic Mercedes. Why not try it now! Visit www.ClassicMercedesMagazine.com for  more information