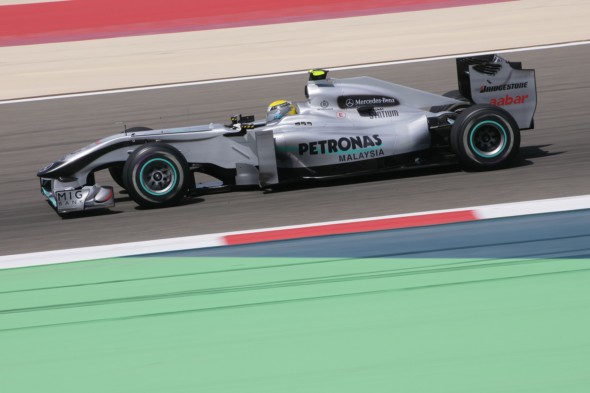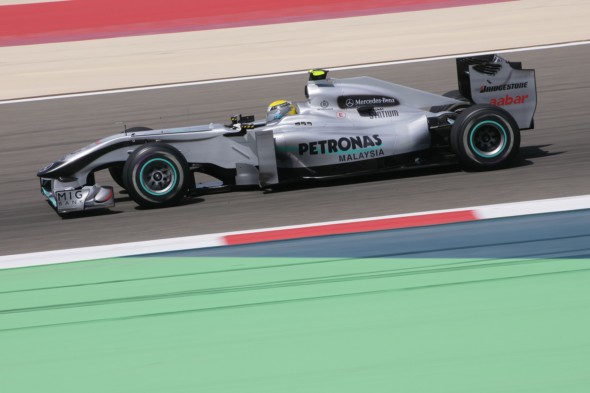 Qualifying for the Bahrain Grand Prix got underway at 14:00 this afternoon to begin the competitive track action for the nineteen-race 2010 Formula One season.
The MERCEDES GP PETRONAS pairing of Nico Rosberg and Michael Schumacher progressed through the first two sessions of qualifying before taking to the track again for a highly-competitive final session.
Nico and Michael completed just one run in Q3, using the softer compound option tyre, and qualified in fifth and seventh positions respectively for tomorrow's 49-lap race.
NICO ROSBERG
"To be honest, we were hoping for a bit more today although we were lacking the pace to challenge right at the front so I guess we should not be too disappointed. It was so difficult out there with the tyres overheating. If you made a small mistake and got oversteer, then you lost a lot of grip for the next few corners.
It's going to be very important to look after the tyres tomorrow in the race. Overall it's a good start for me and with a bit of luck, we should be able to challenge for a podium place tomorrow."
MICHAEL SCHUMACHER
"I am satisfied with seventh place today having been away from Formula One for such a long time. By coincidence, it's the same grid position that I had when I started my career at Spa in 1991. It was fun to work with my new team and I appreciate all their efforts to support me as I get back into the swing of things.
The boys are really good and I feel that we've improved step-by-step over the weekend. I'm looking forward to the race and I expect even more to come."
ROSS BRAWN
"It was a reasonable qualifying session today although we hoped for more after this morning's practice. The balance of the car suffered between practice and qualifying, possibly due to the increasing track temperatures, and we lost some pace as a result. Nico drove very well today in all sessions and Michael, taking part in his first qualifying session since 2006, is getting back into the rhythm as he gets more miles in the car."
NORBERT HAUG
"Not a bad start to the first race weekend for MERCEDES GP PETRONAS in achieving fifth and seventh position in our first qualifying session. I think we looked stronger this morning – and it is our target to be better again during tomorrow's race.
Nico has done a great job since lap one of the weekend and Michael, who is starting his first Formula One race after three and a half years, is one place ahead of reigning World Champion Jenson Button. The race tomorrow will be extremely tough for the drivers, the cars and their engines and we hope to be well prepared for the battle."