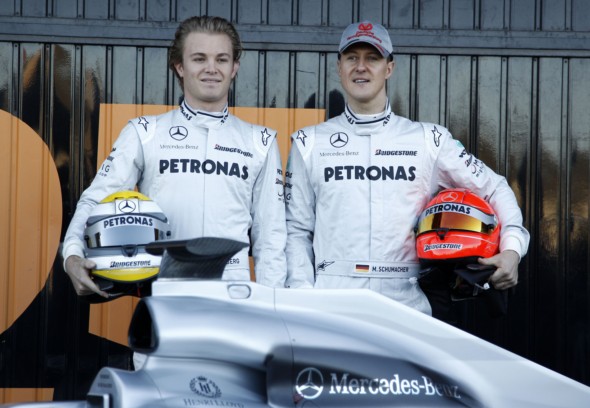 MERCEDES GP PETRONAS MGP W01 CAR MAKES DEBUT IN VALENCIA
| | |
| --- | --- |
| Date | Monday 1 February |
| Track | Circuito de la Comunidad Valenciana Ricardo Tormo |
| Driver | Nico Rosberg / Michael Schumacher |
| | |
| --- | --- |
| No of Laps | 39 laps / 40 laps |
| Best Lap Time | 01:13.543 / 01:12.947 |
| Kilometres Covered | 158km / 162km |
| Track Length | 4.051km |
| | |
| --- | --- |
| Weather | Cool and sunny |
| Ambient Temperature | Maximum 15°C |
| Track Temperature | Maximum 19°C |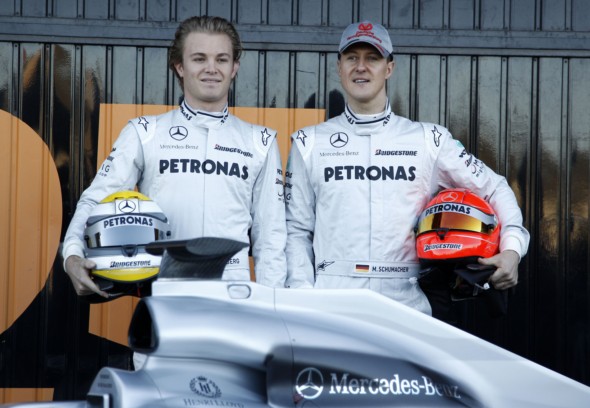 Formula One's first day of pre-season testing began in Valencia this morning to kick off 15 days of track action ahead of the first race of the 2010 season in Bahrain on 14 March. For MERCEDES GP PETRONAS, the day began with a photocall in the morning sunshine at 8:50am with Nico Rosberg, Michael Schumacher and Ross Brawn showing off the new MGP W01 before the car was rolled back into the garage to prepare for the start of the test programme.
Nico was the first to drive the new Silver Arrow on track with the main focus of his programme to work through the initial set-up of the car and ensure that he was comfortable with his seat and position. Nico drove out of the garage for his first installation run at 10:34 and completed five runs over 39 laps before he finished for the day at 13:40, setting the fourth fastest time – a 01:13.543.
Michael took over the MGP W01 for the remainder of the day for his first run in a current Formula One car since April 2008. Getting out on track just after 15:30, Michael was comfortably on the pace after his first run and spent the remaining track time familiarising himself with the new car. Michael completed 40 laps over three runs, with a fastest lap of 01:12.947 putting him in third place on the timesheets.
Nico will continue the team's programme tomorrow with Michael taking over for the final day.
Nico Rosberg: "It was a good first day of testing for us and my initial impressions of the new car are very positive. It felt great to be in the car for the first time and to get our pre-season testing programme underway. Generally everything felt good although I was sitting too low in the car and couldn't see the track very well which we will improve for tomorrow. It's too early to get an initial impression of the competitiveness but it was very special to drive the new Silver Arrow out of the garage. I'm looking forward to tomorrow when we have a full day of testing to make further progress."
Michael Schumacher: "It was a perfect rollout for the new car today. I felt totally comfortable and really had a feeling that everything was very natural. It felt just like at the very beginning of my career in 1991 when on the first lap, I thought 'wow that was really fast' and then on the second lap, I was just extremely excited. I feel like a young boy again and really enjoyed myself out there. We did a good job today, just making a few control checks, and the most important thing was that the car ran reliably. With Nico and I covering 79 laps between us, it was a superb job by the team."
Ross Brawn: "We have had a very useful first day of testing here in Valencia. Our priority was to ensure that the new car was functioning properly and allow both drivers to use their short window of track time to get acclimatised to the car and its operations. Today's work has provided a good basis for the next couple of days and it was rewarding to see that the car ran reliably. I would like to say thank you to everyone at the factories in Brackley and Brixworth for all their hard work in preparing the car to test here this week. And finally, it's been a very special day to work with Nico for the first time, to work with Michael once again and to complete our first active day as the Mercedes-Benz works team."