NEWS
AMG to cooperate with Ducati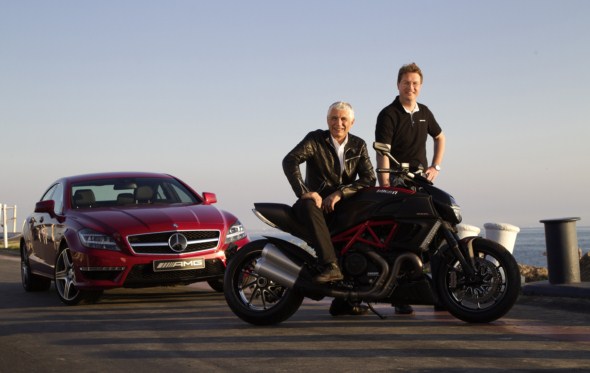 Cooperation agreement signed with Italian motorcycle manufacturer
Los Angeles (USA)/Affalterbach – AMG and Ducati will work together closely in future. The initial aim of the cooperation between the performance brand from Affalterbach and the Italian manufacturer of high-performance motorcycles is to develop common marketing activities.
The cooperation agreement was signed today, during a press conference at the Los Angeles Auto Show, by Ola Källenius, CEO of Mercedes-AMG GmbH and Gabriele del Torchio, President and CEO of Ducati Motor Holding S.p.A.
"I am very pleased that we are able to announce our strategic cooperation with Ducati today. AMG and Ducati ideally complement each other, as both companies share the same values: racing as the driving passion, and high performance plus exclusivity as the central brand messages of both AMG and Ducati. This long-term cooperation will help us to jointly access new customer groups," said Ola Källenius, CEO of Mercedes-AMG GmbH.
"I am especially proud to have AMG as one of our sponsors for the MotoGP Team. I am also very pleased that our joint marketing activities are well under way.
In AMG we have found a partner who perfectly reflects our brand values of high performance, motorsport, excitement and our sense of unmistakable style and design," said Gabriele del Torchio, President and CEO of Ducati
Motor Holding S.p.A.
The first visible results of the cooperation between AMG and Ducati will be joint marketing and sponsoring activities. AMG will support the Ducati MotoGP Team as an Official Car Partner from 2011, for example. During selected AMG events, participants will be able to take test drives with Ducati motorcycles, and Ducati customers will similarly have the opportunity to familiarise themselves with the latest AMG high-performance cars at events.

Joint events are planned for the members of the AMG Private Lounge, in which more than 13,000 AMG customers worldwide are registered.
The partners are currently examining the further activities and strategic steps they might undertake together in the near future.
Ducati and AMG: racing, high performance, exclusivity
Founded in 1926, Ducati initially produced components for radios. From 1946 Ducati focused on the manufacture of motorcycles, and gained a first-class reputation in the two-wheeler sector over the subsequent decades. Today this motorcycle manufacturer based in Bologna, Italy stands for performance with cutting-edge technology, numerous motorcycle racing victories and characteristic design. The brand image ideally complements that of AMG.
AMG was founded in 1967, and is seen as a pioneer in motorsports and performance enhancement. In the following years AMG developed from a two-man operation to a company of worldwide renown. Numerous racing victories, technological tours de force born of the racetrack, unique high-performance cars and an unmistakable brand experience such as e.g. the AMG Driving Academy have come together to form a decidedly exclusive brand image.
Founded in 1999, Mercedes-AMG GmbH is an autonomous vehicle manufacturer. As a wholly-owned subsidiary of Daimler AG, AMG is responsible for all development processes relating to the chassis, engine, suspension, brakes, electronics, aerodynamics, interior and design, right up to final approval of the complete AMG car. Mercedes-AMG GmbH also manages all marketing and sales related aspects in its own right.
The SLS AMG as a masterpiece in AMG's history
The SLS AMG presented in 2009 is an automotive masterpiece from Mercedes-AMG GmbH. As the first automobile independently developed by the company, the super-sports car is the highlight in AMG's more than 40-year history. It not only takes AMG into a new era, but also demonstrates development expertise of the very highest order.
AMG's special focus is on the heart of any automobile, namely the engine. The company's core expertise in developing and producing powerful engines has been assiduously perfected right from the start. In the ultra-modern AMG engine shop, highly qualified specialists follow the traditional "One man – one engine" philosophy to produce high-performance AMG V8 and V12 engines to the highest quality standards.