Mercedes C208 CLK-Class 1998 – 2002
The CLK range in general were fabricated from 1997-2002. The CLK-Class represents Mercedes-Benz foray into mid-sized  rear-wheel drive coupé.
A combination of the C-Class and the E-Class the CLK is a coupé version of the W210 and the W211 E-Class sedan/wagon.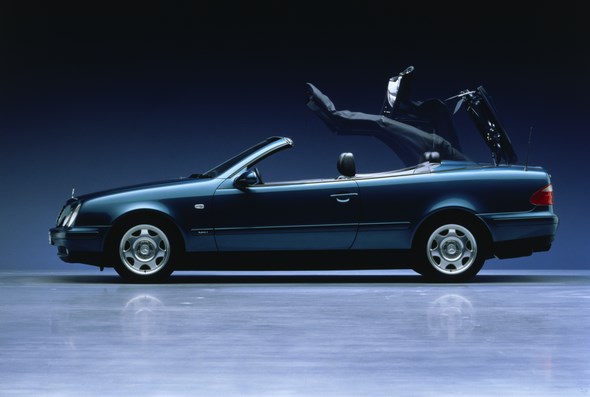 Considerably cost effective as compared to the sporty SL-Class convertibles, it has been later replaced by the W212 E-Class Coupé.
Models on offer in the first generation were the CLK 200(136PS), CLK Kompressor (192 PS), CLK 230 Kompressor (193 PS), CLK 430(279 PS) and the CLK 55 AMG (347 PS) both in the coupé and cabriolet version.
C208 were the Mercedes-Benz W208 coupés sold under the CLK-Class model nomenclature. The models were available both in the coupé and cabriolet form and had four seats.
They were successful in introducing a new market niche for the Mercedes-Benz. Numerous innovative accessories were the stronghold of the CLK-Class; viz. tow-away guard and an emergency transmission mode.
The engine of the CLK AMG is a maually assembled 5.5-Litre V8. The components of the engine would seem to be of those of a race car – crankshaft made of super stiff forged billet steel, connecting rods and pistons too forged with matching weights, camshafts which are lightweight and as per the AMG specifications, the overhead-cam V8 is made of a pressure-cast aluminium and driven by a chain, the V8 possesses two intakes and one exhaust valve per cylinder, besides 8 coils and 16 spark plugs.
The bore and stroke being similar enable the V8 to be ideally balanced.
The AMG model of the CLK-Class has in addition special undercarriage components because it is fitted with higher-rated springs, its shock valves are tighter, the  anti-roller bars have a greater width and the suspension bushings are stiffer.
As a consequence, the firm and controlled ride is guaranteed to be tighter it's performance further enhanced by the ZR-rated low-profile tyres. The anti-locking braking system supports a higher performance.