Slk
PeterH on April 8th, 2015
Fresh air initiative
Stuttgart.  Mercedes-Benz is sending the SLK into the summer roadster season. The two-seater sports car now boasts powerful new engines and transmissions, and excels with exemplary efficiency.
The new model year SLK is available to order now.
PeterH on April 10th, 2012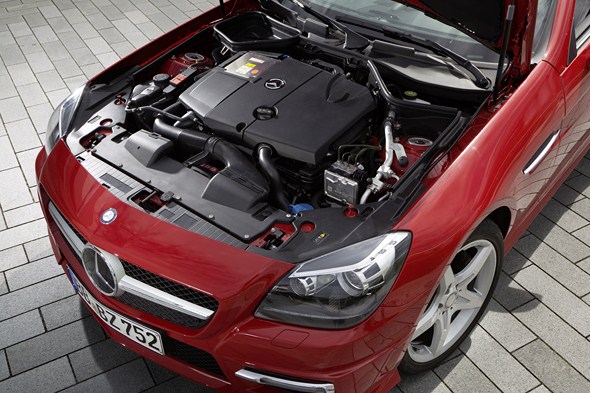 Stuttgart – The introduction of the new SLK 250 CDI by Mercedes-Benz not only marks the continuation of the company's unique diesel engine heritage, but also serves to counter in impressive style the common misconception that diesel engines and sports cars are incompatible.
Continue reading about SLK 250 CDI Roadster with 'power diesel'
PeterH on November 25th, 2010
The all-new Mercedes-Benz SLK – lifting the lid on safety
MONTVALE – Early next year, Mercedes-Benz will launch the all-new 2012 SLK-Class. The agile sports car will feature a bold, new design, exceptionally high levels of comfort, as well as plenty of open-air driving pleasure. At
the same time, it will also set new safety standards for convertible sports cars.
Continue reading about Maximum safety with optimum driving pleasure
PeterH on November 6th, 2010
MAGIC SKY CONTROL: wellness atmosphere at the touch of a button
Stuttgart – Mercedes-Benz is enhancing the vario-roof of the SLK with innovative technology boasting entirely new features. As a result, a totally unique glass roof will be celebrating its world premiere in the new SLK next year: at the touch of a button it can be made either transparent or darkened.  (more…)
Continue reading about Innovative glass roof for the new SLK
PeterH on December 5th, 2009

Mercedes' smallest convertible will be getting a significant refresh for the 2012 model year and will bring feature the brands more upright, pedestrian-friendly grill. The retractable hard top will remain in place but the car will also get a significant butt-lift to match the nose job. The interior will also get revisions emulating the SLS including round vents and simplified controls.
PeterH on February 26th, 2008

Mercedes-Benz is continuing its commitment to further reductions in fuel consumption and exhaust emissions with new products in five model series which will take the stage at this years Geneva Motor Show. Despite their outstanding levels of safety, comfort and refinement, the new coupes and roadsters consume up to 10 percent less fuel than their predecessors. (more…)