FormulaONE
F1 2010 MALAYSIAN GRAND PRIX SEPANG Training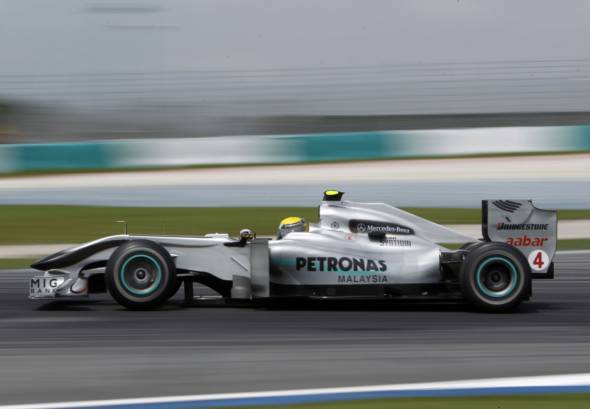 PRACTICE
The opening two practice sessions for the 2010 PETRONAS Malaysian Grand Prix got underway today at the Sepang International Circuit, located just outside the Malaysian capital of Kuala Lumpur.
The MERCEDES GP PETRONAS pairing of Nico Rosberg and Michael Schumacher ran consistently in the top six throughout the day, ending the morning session in second and fourth places respectively, and the afternoon session with Nico again in second place and Michael in fifth position.
The focus for the team's running today was to evaluate the Bridgestone Potenza tyre compounds available for Sunday's race, the soft option tyre and the hard prime tyre, alongside setting up the MGP W01 cars for the specific demands of the fast and challenging Sepang circuit.
STATS
Drivers
Car No.
Chassis No.
Free Practice 1
Free Practice 2
Nico Rosberg
4
MGP W01 / 02
19 laps
1:35.106
P2
30 laps
1:34.443
P3
Michael Schumacher
3
MGP W01 / 03
14 laps
1:35.225
P4
30 laps
1:34.674
P5
Weather
Hot and humid
Temperatures
Air: 27-33°C
Track: 40-52°C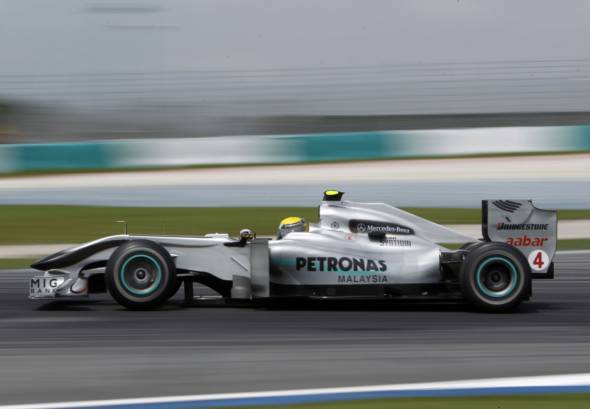 NICO ROSBERG
"Our programme went according to plan today and we made progress over the two practice sessions. The tyre work which we completed was particularly useful so we have a lot to go through this evening to see if we can continue to improve the car prior to qualifying. It's always tough here in Malaysia with the heat and humidity but Sepang is one of my favourite circuits to drive."
MICHAEL SCHUMACHER
"I am quite happy overall with our work today and the practice sessions went very much as we expected. We did have a an issue with the brakes this morning so I did not start running right away but once we were out on track, I felt we had good pace. However we have to be realistic about our performance here and we might still be lacking a little compared to the front runners. The good thing is that you can play with the lines a bit to find time as the track here is quite wide. But in the end, as usual, we will have to wait and see how qualifying and the weather evolve."
ROSS BRAWN
"It has been a busy Friday for the team here in Malaysia for the start of our first 'home' race. The two dry sessions have enabled us to complete the majority of the planned programme for Nico and Michael, although the track conditions did change this afternoon following the rain shower. The priority today was to evaluate the prime and option tyres. Whilst all of the teams were running different tyre programmes, which makes it difficult to predict our relative pace, we are reasonably satisfied with what we achieved and are looking forward to the challenge of the weekend."
NORBERT HAUG
"This is going to be a very challenging race with extreme stress on the drivers, cars and tyres, and particularly all of the team members who have to work in real sauna conditions. The heat and humidity is almost guaranteed and rises in the afternoon. It's difficult to estimate where we are today but generally we are not where we need to be just yet."